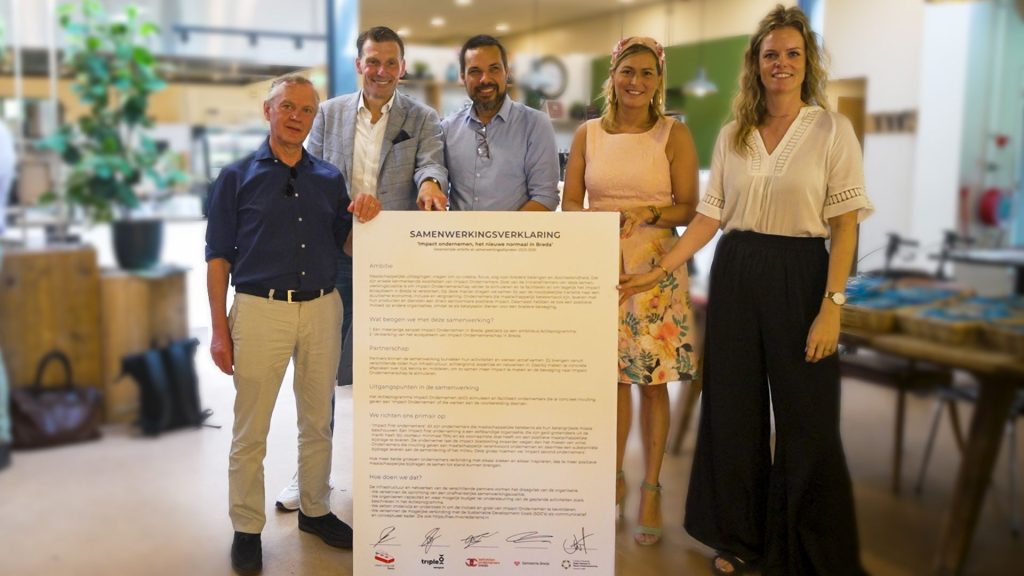 Cooperation statement 'Impact entrepreneurship, the new normal in Breda'
Together with Urban Living Lab Breda, the Triple O Campus Breda, Involved Entrepreneurs Breda (BOB) and the municipality of Breda, we signed the cooperation agreement 'Impact entrepreneurship, the new normal in Breda' last week. Impact entrepreneurship means that a company does not only exist to improve its own situation, but above all to make a positive contribution to society. Also called social, social or sustainable entrepreneurship. Fortunately, more and more organizations choose to embrace impact entrepreneurship and make it a guiding principle in their business operations.
Societal challenges require co-creation, focus, an eye for broader interests and boldness. The goal of the initiators of the cooperation coalition is to stimulate and facilitate Impact Entrepreneurship in the municipality of Breda with a concrete Action Program and at the same time strengthen the impact ecosystem in Breda.
The power of together
The idea behind the partnership Impact Entrepreneurship is to actively work together. Together with the affiliated parties we bundle our activities and bring in expertise, network and infrastructure. Concrete agreements are made about time, knowledge and resources in a multi-year approach with action program. With the Action Program Impact Entrepreneurship, the cooperation coalition 'Impact Entrepreneurship' focuses on so-called 'impact first' and 'impact second' entrepreneurs. The first group includes entrepreneurs who consider social significance and making a positive contribution as their main mission. The second group, impact second, implements corporate social responsibility and makes a substantial contribution to society or the environment, but does not have this as their primary goal. Precisely by connecting these two groups of entrepreneurs, they can inspire each other and create more positive social contributions.