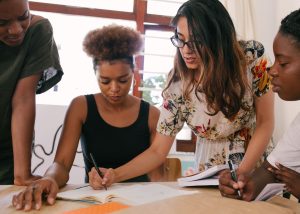 Contributing to solutions to pressing social issues that threaten us, such as global warming, biodiversity loss and resource and human depletion. That is the commitment of the practice-oriented research we focus on. In particular, we look at what we call 'new entrepreneurship': doing business in a way that contributes to human and natural values and restores – but preferably prevents – damage.
We like to conduct our research together with companies, governments, organisations and (knowledge) institutions. Because only through cooperation can major steps be taken towards wellbeing economy. Gathering knowledge, through research, and implementing this knowledge by entrepreneurs, companies and institutions makes it possible to actually change things for the better.
What is wellbeing economy?
We still measure prosperity mainly as economic growth and financial progress. The use of raw materials and people is seen as inevitable here, and we prefer to look away from exhaustion and exploitation. But the earth and society are reaching their limits. That is why a transition to a wellbeing economy is necessary.
Wellbeing economy includes everything people find of value. Material and financial, but also aspects such as education, health and a pleasant living environment. Living in a wellbeing economy also means that everyone, now and in the future, has the opportunity to realise that prosperity for themselves. This requires new entrepreneurship: entrepreneurship that contributes to human and natural values and makes an effort to prevent damage. The transition to a welbeing economy requires different knowledge and insights and different ways of acting. Also within the research field.
What does research at BWNO look like?
At CoE BWNO, as a researcher you will work with professors and colleagues on practice-based research that contributes to a wellbeing economy and the entrepreneurship that goes with it. Practice-oriented research starts with a relevant question for practice, which is tackled together with practice partners, lecturers and students. Not just to arrive at an advice, but to realise meaningful impact in the form of more widely applicable, generalisable knowledge, insights and practices. Within our knowledge programme, we distinguish two lines of research, the first being research into wellbeing economy.This addresses questions such as:
What do people understand by wellbeing economy?
Does the answer to that question depend on what position they have or occupy in society?
What do people, communities and organisations need in terms of agency to achieve their wellbeing economy?
If agency depends on power, freedom and resources, how do we ensure their equitable distribution?
What are the principles and ground rules of an economy aimed at achieving wellbeing economy and ensuring respect for nature and people, now and in the future?
The second programme line concerns entrepreneurship and examples of questions in this are:
How does renewal towards a form of wellbeing economy take place in formal and informal organisations and partnerships?
How does an organisation or partnership also continue to create economic prosperity when the focus turns to wellbeing economy?
What are the starting points for doing business in an wellbeing economy?
Get started too?
Would you like to contribute to the transition to wellbeing economy and new entrepreneurship with practice-based research? We'd love to engage with you!