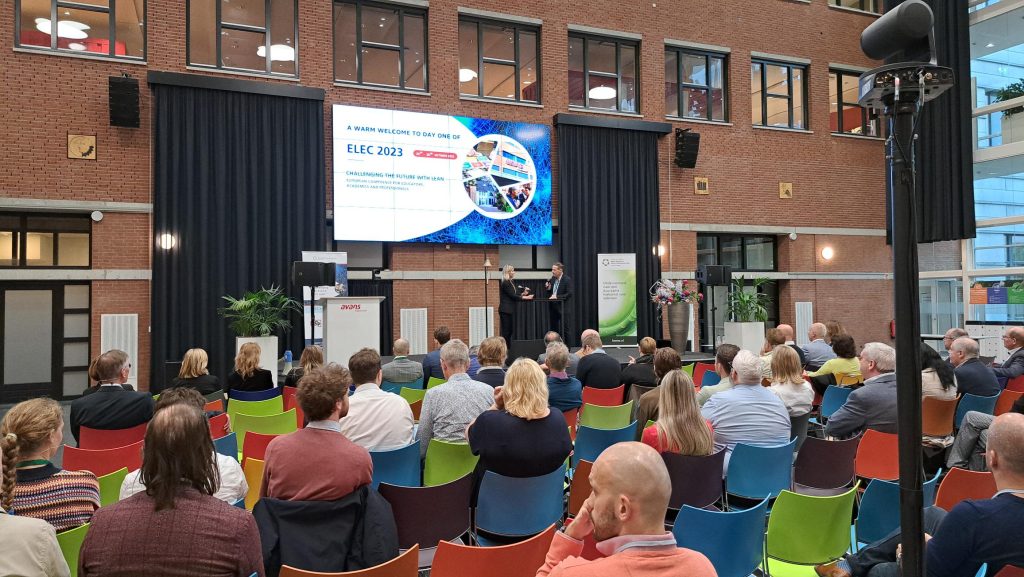 This year, our Centre of Expertise hosted the annual European Lean Educators Conference (ELEC) on behalf of Avans University of Applied Sciences.
ELEC is an international conference in which business and education exchange knowledge about Lean management. The annual international conference ELEC focuses on knowledge exchange within and between education and business on Lean thinking as a management and improvement philosophy.
We look back on three inspiring and valuable days!
Around the theme "Challenging the Future with Lean," teachers, researchers, trainers and coaches from the business community were challenged to think about the future. Through presentations by inspiring speakers and with interactive workshops, current insights into Lean thinking were shared.
The first day of ELEC began with a preface by our director Arna Arnautovic. The program of the first day was filled with keynotes by Jaap van den Heuvel (Professor of Healthcare Management, University of Amsterdam) who spoke about the use of Lean in healthcare. Then Alinda Kokkinou talked about the power of digitization and data analytics during her speech.
The second day of ELEC revolved around Best practices in Lean. The program kicked off with the impressive story of Komberianov Serhii, president of the Lean Institute Ukraine. Dr. Michael Sanders offered ELEC participants a tilt of perspective on Lean: his approach focuses not on processes, but on products, and Mark Hijmans shared with the audience ASML's experiences with Lean, and the lessons he himself has learned not only at ASLM but also in other workplaces with improvement projects.
The parallel session in the afternoon was followed at the end of the day's program by the presentation of the Best Paper Award and the day ended with a walking dinner in the attractive Jhieronimus Bosch Art Centre in 's-Hertogenbosch.
The third day was inspiring and eventful.
Jim Lippens, CEO of 4D Lean, talked about how important it is for employees to be engaged in an organization. He wanted to help vulnerable people and give them hope so they are more satisfied at work.The founder of 4D Lean explained what this means for leadership: vulnerability, daring to open yourself up and step out of that comfort zone.And how much impact it can mean to step out of that comfort zone was then explained by pianist Iris Hond who played beautiful pieces on the piano in addition to her speech. Rose Heathcote, Senior Advisor at Thinking People, talked about ways we can improve the world during her keynote address.Furthermore, the three days' knowledge was put into practice through a serious game by LEGO.The winner was presented with a certificate by the jury, consisting of Jim Lippens, Rose Heathcote and Vice President of Avans Jacomine Ravensbergen.