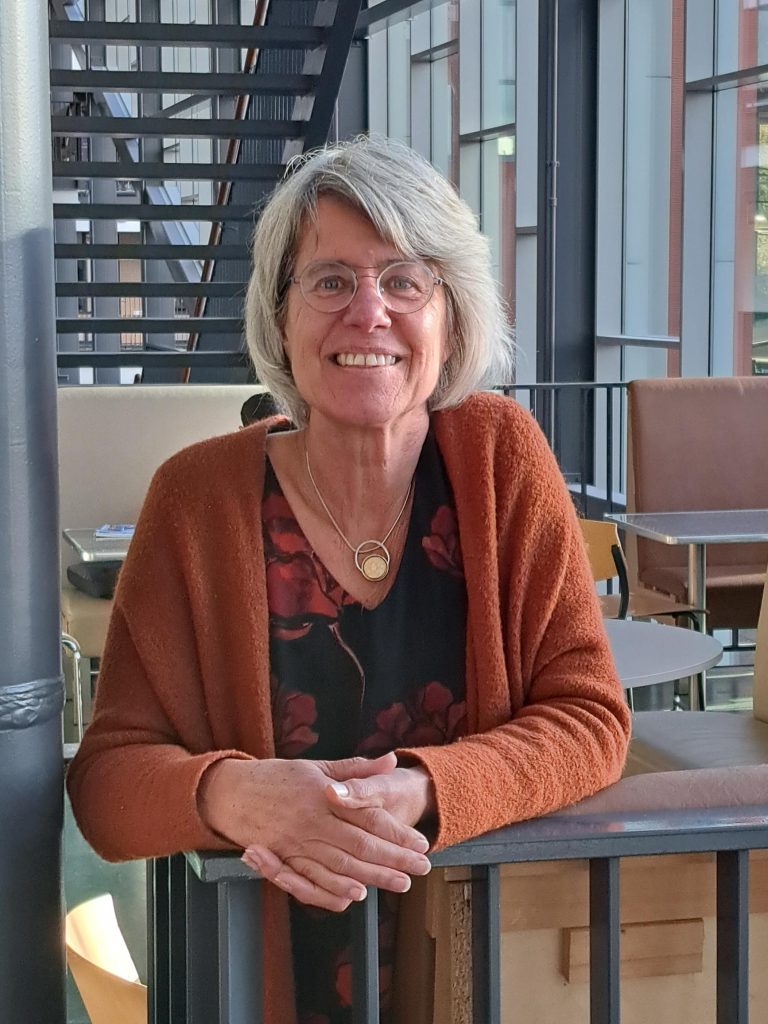 Senior researcher Impactful value chains
Senior Researcher Impactful Value Chains
Ineke van Kruining is associated with the professorship Impactful Value Chains and works as senior researcher and project leader Artificial Intelligence/Digital Technology for Wellbeing economy & New Entrepreneurship. In addition, she is associated with Technohub Inclusive Technology West Brabant (PPS), Hackathon AI4Good, DAC (Data Analytic Capabilities).
Expertise
Ineke has been working at Avans University of Applied Sciences since 2012. She grew up in Rotterdam and studied in Utrecht later in life. Her expertise lies in the HRM field, Digital Technology and Social Innovation, Inclusive Technology, Coaching, (Regional) Networking & Connecting & Organizing, Research, Publishing, Mediation, Systemic Viewing, Project Leadership, Language Skills (NeFaDuEn).
Research
In 2014, Ineke worked on an exploratory study on the successful (re)entry of long-term unemployed people into regular employment for municipality Breda. In 2017, she broadened her interests by studying digitalization in HRM. In the following years, she wrote the abstract Career Implications of Digital Technology at TU Eindhoven, among others.
In 2019, Avans University of Applied Sciences published the internal publication 'Digital Technology and Administrative Functions – an exploratory study'. She continued her expertise in HRM and digitalization with research at EAWOP Turin.
Career
With a background in occupational psychology, Ineke gained work experience in profit, non-profit and had her own consulting firm with five companions. Since 2012 she continued her career at Avans University of Applied Sciences, where she works as HRM teacher, coach, project leader and researcher. The content of her professional experience can be described with the two words "HRM" and/or "Digital Technology. From 2017 to 2021, she partially conducted a doctoral project: 'Work effects of digital technology in administrative function and the role of HRM'. As an ambassador, Ineke continues to insist on the importance for HRM practitioners (and other 'social' professionals) to have an eye for and be involved in the effects of digital technology.
Ineke about a sustainable future:
I am driven by the need to make the world irreparably better for individuals, organizations and the earth; I am eager to help and achieve together.
Additional positions
Besides senior researcher and project leader at the professorship Impactful Value Chains, Ineke has been a Lecturer Coach in Human Resource Management at Avans Hogeschool in Breda since 2012.
Van Kruining, I. (2017). The dis-app-earance of HRM: Impact of Digitization on the HRM Profession. In Electronic HRM in the smart era (pp. 311-337). Emerald Publishing Limited.
Doe mee(r) meer techniekimplementatie PW dec. 2022 Van Kruining, I, & Wolffgramm, M. (2022).